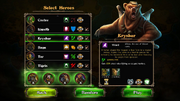 Heroes are playable characters in the game, represented by a meeple, which can be used to lead armies across the map. Each hero has different characteristics. They can be awakened from the City at a price and have a default set of
troops
. In the event of an untimely demise, Heroes can be reawakened/revived after a certain number of turns.
Professions
Edit
The profession of the Hero determines what cards may be made available during the course of the game.
Warrior
Wizard
Rogue
Merchant
Swashbuckler
Warlock
Mercenary
Hero traits are bonuses that only apply to the units under the Hero meeple stack. They do not apply to a stack of Hero armies (when you move 2 to 4 hero armies together).
Attacker
Builder
Chancellor
Conqueror
Defender
Melee Attacker
Missile Attacker
Pillager
Protector
Quartermaster
Recruiter
Siege Master
List of Heroes per Faction
Edit
Heroes are unlocked by completing Campaign levels. By Default, there are 4 Heroes for each Faction already made available. Each individual game allows you to select 4 Heroes.
Hundred Kingdoms
Edit
Bancara
Erika
Olivia
Ridley
Robert
Savil
Tara
Val
Zalaman
Faeborne
Edit
Anatolious
Caelee
Izmuth
Krysbur
Megera
Moko
Rana
Ter
Tigris
Revenant
Edit
Anette
Dalgar
Deidre
Graziano
Hel
Skele King
Tonga
Ul'mar
Hannibal